Search Engine Optimization (SEO) is a practice that helps your website be found when people search for a particular service or business near your area. If you have a strong SEO campaign, Google, Bing, and Yahoo! will rank you higher on their search pages. The higher you are placed, the more traffic you bring to your website which in turn relates to a higher number of possible clients.
SEO is not for everyone. If your business does not sell directly to the public and mainly relies on bidding practices to acquire jobs, SEO is not going to give you the ROI that you need. There are different marketing practices that you can use and employ. You can always request a free marketing evaluation and we can help find areas to improve your brand and marketing opportunities.
If your business is a local store, restaurant, or service provider that sells directly to a customer, then SEO might be what you're looking for. SEO as a whole is a series of steps (practices) that work together in order to help you rank higher.
A great website to learn about SEO is MOZ.com. We encourage you to read their SEO 101 to better understand what SEO is, how it works, and what to expect from your SEO campaigns.
"If you want a thorough research firm to go above and beyond the standard cookie cut forms and truly learn your business to create the critical content needed and also the trends of current times in digital marketing….then choose PI Media."
"Having the ability to pickup the phone and reaching someone to answer questions about our website or marketing is invaluable to our business. "
"There is no doubt about it, you guys have it together. The results we have received are simply amazing. I could not be happier."
"We moved to a new area and opened a new business in a new town. Our competitors are starting to notice our company and consider us a threat."
Run a free audit of your website. Using the Audit Tool will generate an automatic report of your website. This report is relatively basic, but it can help you identify weaknesses on your page. When the report is finished, you will receive a grade based on the practices that you are using. You can use this information as a baseline to improve your On-Page SEO Strategies. If you have any questions, we are always here to help > Contact Us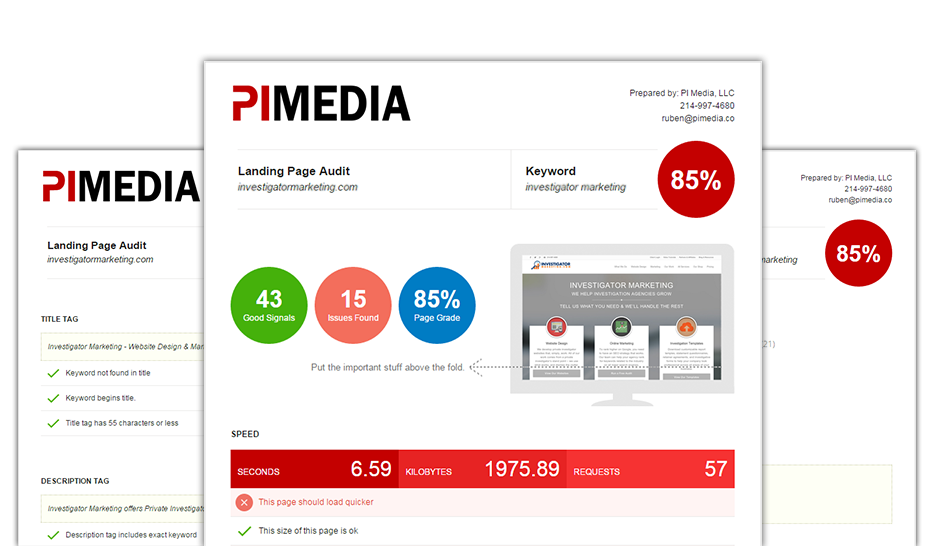 Run a Free Audit
See how optimized a specific web page, landing page, or blog post is for a exact keyword or phrase
Need to speak to someone about SEO Services? We're here to help.